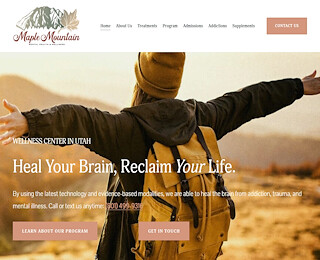 Are you having a difficult time overcoming a tragedy? Here, at Maple Mountain Recovery, we understand how traumatic this can be and the challenges that follow. It is, for this reason, we have our life-transforming residential trauma treatment facilities in Utah.
First-class rehab hospitality
As a resident of our inpatient rehab, you will receive excellent medical, clinical, and addiction care solutions. Conveniently nestled in the quiet rural district of Mapleton, Utah, our facilities afford you nature walks and fresh mountain air. You will have access to modern amenities, such as:
Theater room
Exercise studio
Gaming lounge
Dry sauna
Your well-appointed private rooms are spacious, clean, well-decked out, and have a remarkable view. It has all the comforts and conveniences you need to enjoy your time here. We equip you with the resources and a stable environment to promote life-long recovery. Our professional team is hospitable and supportive.
Mental health therapy
Consider us for all your mental health recovery needs. Our well-trained, expert team employs an integrative, holistic approach. We perform a series of assessments to identify the primary influence behind your mental health issues and recommend an appropriate treatment. Trauma is often the underlying cause of mental illness and addiction.
Since trauma impacts your brain, we dedicate our holistic programs to providing whole-body healing. Addressing trauma directly, we will focus on brain healing first and explore innovative ways to aid your recovery. Of course, our life-changing training will enable you in various ways, which allows you to learn critical coping skills.
Understanding how trauma works
Trauma stems from stressful situations, such as abuse, a social issue, or similar trials. It is a systemic mechanism that alters your brain chemistry and influences your behavior. At our trauma treatment facilities, we leverage our resources, knowledge, know-how, expertise, and science-backed assessments to link the source.
Sometimes these traumatic experiences play a role in you developing depression, bipolar disorder, anxiety, and PTSD. Mental illnesses can be debilitating and life-threatening. Irrespective of how severe your symptoms are, we will get to the bottom and reset your brain through intense therapy. We offer several individualized treatment options to promote natural healing.
Treatment for trauma
First, we get to understand what caused your trauma. Usually, our various tests help us determine if you have a co-occurring disorder. Depending on the results, our team will work together to formulate a personalized treatment plan that addresses all facets of your condition. Depending on your diagnosis, we generally recommend these treatment approaches:
Neurofeedback
Motivation Enhancement Therapy or MET
Psychoeducation workshop
Serenity BioSound Lounge
Dialectical Behavioral Therapy or DBT
Experiential Therapy
Cognitive Behavioral Therapy
Eye Movement Desensitization/Reprocessing
Cranial Electrotherapy Stimulation
Whether you live near our residential trauma treatment facilities or out of town, you will find our arrangement quite convenient. Text, email, or call Maple Mountain Recovery for emergency help at 801-499-9316 anytime. Want to get additional information? Email info@maplemountainrecovery.com or complete our request form online. Rest assured, our rehab has dual licenses for treating mental health and addiction patients. Follow us on YouTube, Instagram, and Facebook for our latest news.
Maple Mountain Recovery
801-489-9871
727 E. 1100 S St.
Mapleton UT 84664
US