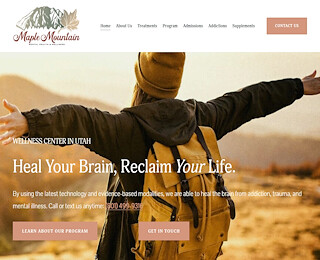 Drug addiction is often a life-long condition requiring continuous management to prevent relapse over the years. Without proper treatment, you cannot hope to overcome the withdrawal and leave addiction behind. Maple Mountain Recovery offers access to the best drug treatment center in Utah, providing holistic recovery and in-depth diagnosing and medical assistance. There are five reasons why you need to choose our Utah drug and alcohol treatment center over any other:
1. Comprehensive assessment and treatment
Substance addiction, physical and mental traumas, and psychological problems are all interconnected. Sometimes people resort to drugs and alcohol to find relief from their problems; other times, their addiction creates them. The ideal rehab treatment needs to consider these aspects and provide effective and long-lasting solutions.
At our top alcohol and drug rehab center in Utah, we rely on a holistic philosophy to provide the best and most effective treatment. The first stage in the rehabilitation process consists of in-depth clinical assessment. During this phase, our clinicians will diagnose your mental problems, gather information about your addiction, and create a patient-oriented recovery plan. The treatment will follow the same standards, providing security, comfort, and fast recovery.
2. Extensive psychotherapeutic assistance
Psychotherapies are critical for consistent recovery and sustainable sobriety over the years. Some of the procedures we're using include:
Eye Movement Desensitization and Reprocessing (EMDR)
Serenity BioSound Lounge
Cranial Electrotherapy Simulation
Cognitive Behavioral Therapy
Motivation Enhancement Therapy, etc.
These therapies promote mental stability, introspection, honesty, and accountability as the milestones to any reliable recovery program.
3. Lifestyle adjustments
Our drug rehab and inpatient alcohol rehabs in UT promote a complete lifestyle overhaul. When battling addiction, every lifestyle choice counts, including how and what you eat, your overall mental and emotional state, physical activity, etc. Our program offers access to many programs and amenities, including a jacuzzi, sauna, massage sessions, recreational therapy, yoga, art and music therapy, etc.
The goal is to rebalance your body, mind, and spirit and allow you to recover and heal faster, both during and after the treatment.
4. Personal relationships
We believe that the staff-patient relationship is critical for creating a supportive and relaxing recovery environment. Our clinicians and counselors are here to assist you in your recovery journey, offering security, empathy, professionalism, and a friendly and positive attitude. Our rehab centers in Utah offer a home-like environment where you will develop friendships and personal relationships with our experts.
You can rely on our counselors in case you need a shoulder to cry on, find moral support, or share future plans and expectations.
5. Aftercare guidance
Many recovering addicts struggle to find their place in the world post-treatment. Our drug rehab center and addiction recovery will equip you with all the knowledge you need for a sober, healthy, and successful life post-rehab.
If you're interested in our drug treatment center in Utah, contact Maple Mountain Recovery at 801-499-9316, and let's discuss your treatment options and expectations. The sooner you call, the easier and smoother the treatment will be. Have faith, and you will achieve success!
Maple Mountain Recovery
801-489-9871
727 E. 1100 S St.
Mapleton UT 84664
US