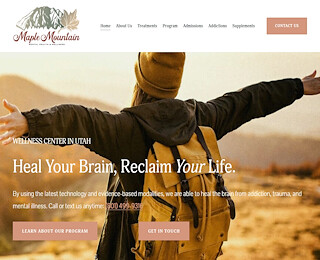 The best drug rehabilitation center in Utah is Maple Mountain Recovery. Our facility offers holistic and alternative treatment options that target the root of the addiction. Each client receives an initial assessment upon arriving at our clinic that is thorough and customized. You can expect our staff to listen closely to your needs and ask questions about your past. At our facility, we believe that addressing issues of the past can help resolve similar issues in the present.
Each treatment program is tweaked and adjusted to meet the requirements of every individual that comes to us for treatment. Modifying the treatment programs allow for each patient to achieve the maximum results possible in a short time period.
Multiple insurance types are accepted by our facility, but those without coverage can still seek treatment. We pride ourselves in providing equal treatment to all patients and presenting multiple financial selections.
Creating a New Sober Life
Developing a new routine is one of the key components to living a sober life. We encourage our patients to rid themselves of old habits and ways of thinking to embrace alternative realities. Taking a step outside of your normal self can help you gain perspective as to what path you should take in life. Before you can lead a sober life on your own, you will work with our support team and undergo a variety of therapeutic treatments.
Our team will teach you the tools you need to build the foundation for your own future success. Getting help with drug addiction is nothing to be ashamed of, as it is a strong act of character to admit a problem. While it is okay to ask for help, the ultimate success of each patient depends on their own confidence in themselves. Believing in yourself and your power to bounce back can influence the success of your treatment.
Guided Patient Transitions to Preplanned Aftercare
At Maple Mountain Recovery, our staff will help provide guided patient transitions to preplanned aftercare. Aftercare is an important part of the healing and growing process. Addictions are classified as diseases, but addiction is a disease you can recover from with the proper tools for achievement. The possibilities are endless with support, therapy, and aftercare working specifically for your needs. Individualized care is what makes our facility so appealing, as our one on one care provides a personalized touch that is hard to beat. Connecting with other people when suffering from addiction can be a crucial part of rerouting your life back on track.
Contact Us for a Patient Assessment Today
Anyone who is battling addiction should reach out to our customer support team at Maple Mountain Recovery. We have experience working with patients with dual diagnoses, such as Post Traumatic Stress Disorder. Our techniques target the brain when developing future success and alternative treatments. Exploring new avenues can open up treatment opportunities you otherwise would not have access to. Allow our team to help you say goodbye to your drug of choice once and for all.
Maple Mountain Recovery
801-489-9871
727 E. 1100 S St.
Mapleton UT 84664
US