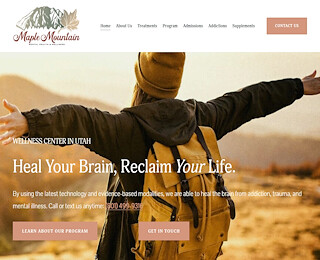 Are you looking for a licensed Utah trauma therapist who specializes in mental health and addiction? Get in touch with Maple Mountain Recovery now! Our practitioners come highly qualified and specialized.
Family therapy for mental health
Your family plays a pivotal role in the recovery process. Sometimes the stigma of mental health divides close-knit relatives and friends. Working closely with those afflicted by your distress, we will help your family, and those closest to you overcome the trauma. We have family education therapy classes weekly to help relatives cope and learn how to navigate the recovery process.
While you are going through your ordeal, it impacts those closest to you, including your spouse, children, and parents. Our goal is to ease some of the tension, distress, and stress it causes. Doing this, we will establish a common ground where you can all support each other and communicate more effectively. It will help conciliate the sense of resentment, anger, anxiety, and sadness that permeates the air.
Resilience training for trauma
It might surprise you that resilience training can help you overcome trauma, tragedy, and stress. The trauma-informed care approach our therapists employ helps us to understand and integrate efficient treatment to support healing. As you retrain your mind, body, brain, and soul, you will:
Adapt to adversity
Be productive
Be proactive
Learn self-care
Increase optimistic
Develop a goal-setting mindset
Identify negative and positive behavior patterns
Mindfulness for trauma
A powerful psychotherapy tool, mindfulness helps you overcome your weakness to bolster brain healing. It is a type of heuristic experience where you discover healthy coping strategies. Our therapies induce relaxation in a safe space where you can meditate and find equilibrium.
Referencing numerous study findings, our Utah trauma therapist emphasizes the critical nature of relaxation, an essential step to bolster brain recovery. As the body relaxes, it reduces the emotional and physical response to stimuli, for example, stress. In this relaxed state, where your nervous system is calm, it establishes a favorable environment for rapid healing to take place.
Outcomes of trauma-informed care
At the early stage of your treatment, we mainly focus on evidence-based education to equip you and those closest to you with knowledge. It is a necessary step to help you process your thoughts, feelings, and understand your behaviors better. Also, it helps build confidence so that you can accept the situation for what it is and work on ways to overcome it. With this, you will learn how to resist compulsion and face your fear of shame.
Using our trauma-informed care approach, we achieve the following four elements:
Realization – Determine the primary mechanisms of trauma and establish potential paths for life-long rehabilitation.
Recognition – Identify the symptoms and signs of trauma. We will educate your family and those involved.
Respond – Leveraging our knowledge, experience, and know-how, we can recommend the best-personalized therapy.
Resistance – You will learn how to prevent retraumatization.
With the right help, you can get a new lease on life after mental illness and addiction. Let Maple Mountain Recovery show you how. Get evaluated by a qualified Utah trauma therapist online or call 801-499-9316 to schedule an appointment.
Maple Mountain Recovery
801-489-9871
727 E. 1100 S St.
Mapleton
UT
84664
US