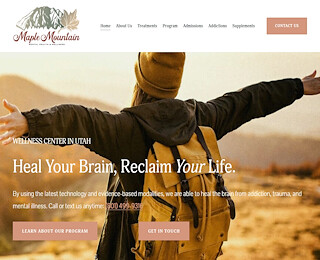 Maple Mountain Recovery is one of the best Borderline Personality Disorder treatment centers in Utah. Borderline Personality Disorder is a mental condition that has also been called Emotional Dysregulation Disorder. While millions of people in the United States are diagnosed with this condition each year, there are still stigmas that surround the issue. Undiagnosed or untreated mental illness and addiction tend to go hand in hand.
A dual diagnosis is defined as co-occurring disorders in one single patient, such as addiction mixed with Borderline Personality Disorder. The condition can cause boredom, isolation, and distorted realities of one's own self image. The most common symptoms of this mental illness include the following:
      Delusional Feelings
      Severe Depression
      Lack of Interest
      Severe Mood Swings
      Violent Outbursts
      Anxiety
These are just a few symptoms that are the most common among patients. Symptoms of addiction include appetite changes, mood swings, and damaging decisions or activities. The American Medical Association has classified addiction as a disease, just like mental illnesses are classified as diseases.
Treating Dual Diagnosis
At Maple Mountain Recovery, we focus on helping our clients explore their treatment options for addiction and Borderline Personality Disorder. Our expert staff will give a full evaluation of each patient to help create innovative plans to meet their specific individual needs. Treating a dual diagnosis of addiction and mental illness requires a strategized treatment program, which is what we can offer at our top of the line facility. The incorporation and implementation of holistic and traditional treatment concepts address addiction at its core.
Mental illness treatments are also utilized to soothe the troubles of the mind. Targeting the root of addiction and treating the symptoms of mental illness make it easier to get back on the path toward recovery. Starting with the brain, specialized techniques are used to provide relief and promote success.
Most Popular Treatment Options at Maple Mountain Recovery
Our facility offers multiple treatment options, such as EMDR. EMDR is an abbreviation for Eye Movement Desensitization and Reprocessing therapy. This unique therapy has undergone extensive scientific research to prove its general effectiveness for resolving trauma from life experiences considered to be adverse. This psychotherapy uses the rapid eye movements of the patient to help control the emotional response to a traumatic event or memory.
Neurofeedback is another popular treatment at Maple Mountain Recovery that addresses self control and regulation. Many different mental conditions can benefit from neurofeedback treatment, especially when mixed with other types of treatments. Experimenting with treatment plans can allow each patient to achieve the highest possible results in the shortest period of time.
Serenity BioSound Lounge for Biofeedback
Using guided imagery, our Serenity Biosound Lounge at Maple Mountain Recovery allows clients to achieve biofeedback. Music therapy is mixed with positive affirmations to help soothe the mind and soul. Each patient is provided a sound frequency massage with low frequency vibrations to achieve a more relaxed state. Clients are urged to reach out to our customer service team to learn more about how our facility can help you. 
Maple Mountain Recovery
801-489-9871
727 E. 1100 S St.
Mapleton UT 84664
US