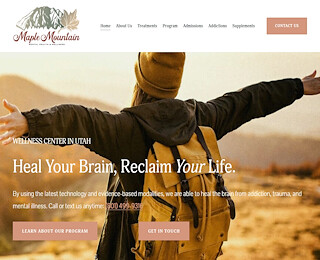 Alcohol addiction can be devastating long-term, causing a multitude of personal, professional, mental, and even legal problems. At Maple Mountain Recovery, our alcohol treatment in Utah offers addicts the opportunity to start life anew. Our holistic approach to rehab provides fast and lasting results, helping you embrace sobriety as a lifestyle.
The best Utah drug and alcohol treatment center
If you're ready to leave alcoholism behind, you need to join a reliable rehab program as soon as possible. Alcoholism is progressive, which means early treatment is ideal for preventing any further complications over time. Our approach to treating addiction relies on holistic principles, treating patients as whole individuals and addressing physical, mental, and spiritual issues.
The services we're offering include:
Eye Movement Desensitization and Reprocessing (EMDR) – An integrative psychotherapy that is extremely useful in addressing addiction-related mental issues like PTSD, trauma, depression, anxiety, and chronic stress. It offers outstanding results over only six sessions, allowing you to heal faster and remain sober and stable over the years.
Cognitive Behavioral Therapy (CBT) – Dealing with negative thinking patterns is essential for promoting healthy mental functioning, confidence, honesty, and positivity. CBT is one of the core therapies we use at our alcohol and drug rehab center in Utah to address substance addiction and negative behavioral patterns.
Motivation Enhancement Therapy (MET) – Just like the name suggests, MET is a motivational therapy aiming to strengthen patients' commitment to sobriety and help them realize their strengths and assets. MET is one of the core procedures we use during our drug rehab and inpatient alcohol rehabs in UT for its long-term positive results.
Dialectical Behavioral Therapy (DBT) – DBT deals with extreme thinking patterns and promotes balance and stability. It teaches core values like moderation, distress tolerance, introspection, and emotion regulation as the perks of a mature and responsible individual. Its role in the recovery process has forced us to adopt it as a fundamental procedure for supporting recovery and long-term sobriety.
Experiential Therapy – This program is all about personal development and improvement. Our rehab centers in Utah use Experiential Therapy to promote higher self-esteem, personal success, mental health, and spiritual enlightenment and stability.
Our drug rehab center and addiction recovery programs also include art and music therapy, optimized nutritional plans, family therapy, etc. For a complete overview of our recovery services, visit our website or call our counselors today!
Treating alcohol addiction fast
The rehabilitation process is not pleasant, which means nobody wants to prolong it. Our alcohol treatment in Utah aims to cut the time necessary for recovery significantly using a holistic approach. Our treatment will allow you to recover faster and safer than anywhere else, make plans for a better future, and learn how to embrace sobriety long-term.
If you're ready to join our rehabilitation treatment, contact our team at Maple Mountain Recovery (801-499-9316), and let's discuss your options! You can speak to a counselor today, share your story, and see what the future has in store for you. Choose freedom; begin the treatment today, and leave addiction where it belongs – in the past!
Maple Mountain Recovery
801-489-9871
727 E. 1100 S St.
Mapleton UT 84664
US