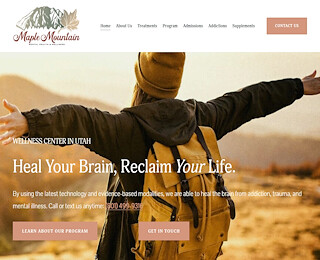 You finally decided to quit drugs, but not sure how to go about recovery. It's fantastic you've found Maple Mountain Recovery, and we will meet your every need. Our addiction recovery programs in Utah are highly effective, and we'll be there every step of the way. What differentiates our mental health and addiction healing approach?
Why is sustainability crucial for addiction recovery?
All of our treatment approaches are sustainable and address the root triggers of addiction. Studying addiction, we identify four frameworks that correctly define the struggles an addict faces during recovery. We call these environmental, spiritual, biological, and traumatic inhibitors. Using an integrative treatment solution, we will correct the damages that stem from these imbalances.
With a sustainable, working treatment intervention, we will eliminate your dependency and promote whole-body healing. We employ an individualized approach, where we customize your treatment based on science-backed research and medical assessments.
Our addiction recovery programs
Leveraging the latest medical technologies, devices, expertise, research, and hands-on experience, we offer various treatment options. We will assign a specialized recovery case manager and coach to give you the personalized guidance you need. Working collaboratively with you, we will carefully select programs for you that are heuristic, compatible, supportive, and sustainable.
To establish a sustainable foundation to bolster recovery, we incorporate both holistic modalities and experiential therapy. Plus, we provide aftercare support and recovery monitoring to help you stay committed. We offer the following therapeutic modalities for addiction recovery programs in Utah:
Equine/art/music therapies
Group therapy
Mindfulness
Recreational therapy/physical exercise
Family therapy
Nutrition counseling
Sweat lodge ceremony
Massage/sauna/jacuzzi steam therapy
Yoga Nidra
Resilience training
Addiction admission requirements
Since you will be here for some time, your comfort is a top priority for us. Although we take care of your accommodation and bare necessities, we encourage our residents to bring along some essential items as well. A sampling includes your primary personal care or hygiene products and comfortable clothes. What else? Consider downloading our detailed checklist to learn more.
At our inpatient rehab, we strictly prohibit the use and possession of banned items. Some examples include:
Narcotics
weapons
Pornography
Aerosols
Alcohol-based products
Chewing tobacco
Alcohol
Drugs
Illegal prescription drugs
Specialized addiction expertise
Is your battle with substance abuse, mental disorders, a specific addiction, or a combination? Trust in knowing we are veteran practitioners with years of experience and specialized addiction treatment expertise. Addiction has numerous sources; it might be a genetic anomaly, social construct, or learned behavior. Whatever drove you to it, we will do everything to restore your health and heal you.
Mental disorders often enable your addiction without you knowing this mechanism is at work. What we do here focuses on whole-body detoxification and re-tooling. In that, we will reset your brain, mind, soul, and body. By our intervention, you will rebuild relationships, become healthy, socially active, and resume professional work.
Maple Mountain Recovery runs a 24-hour holistic inpatient rehab that accepts admissions round the clock. Call (801) 499 – 9316 anytime, and our admissions advisor will guide you through our protocol for addiction recovery programs in Utah.
Maple Mountain Recovery
801-489-9871
727 E. 1100 S St.
Mapleton UT 84664
US